100th Day Activities Roundup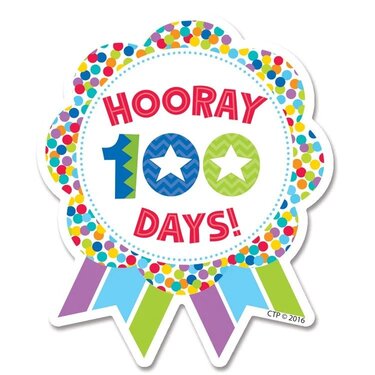 Activities for 100th Day of School
Whether you feel like the first day of school was just yesterday or a million years ago, the (actual) 100th day of school is quickly approaching in classrooms around the nation. You want to plan something fun and engaging, but you're a busy professional without a ton of time to comb through the entirety of the internet. With that in mind, here are a few fun and fresh ideas for your 100th day festivities.
For the Arts and Crafts Hero
Allow for some open-ended creations using pre-cut numerals.

Do the 1, 0, and 0 become an animal?
A rocket ship?
An abstract design?

The possibilities are endless! This activity is perfect for students of all abilities and has as much potential to appeal to students who naturally gravitate toward creative endeavors as well as your more hesitant artists.
Add materials such as pom-poms, google eyes, tissue paper, or other collage materials for some extra creativity.
For the Culinary Virtuoso
Who doesn't love a good 100th day snack? There are a few ways to approach this. In one version, students bring in 100 of a particular item from home (mini marshmallows, pieces of cereal, chocolate chips, pretzels, raisins, etc.) and you can make a class trail mix of sorts by combining them. Before combining, make sure to talk about what '100' means for the different ingredients.
Why does it look like there are more pretzels than chocolate chips?
Which ingredient needed the largest bag?
Could you eat 100 chocolate chips?
How about 100 hamburgers?
In another version of this activity, students make their own snacks using 10 pieces each of 10 ingredients. Depending on the age and skill levels of students, it may be appropriate to practice counting to 10 each time or counting by 10's to 100.
Note: make sure to keep allergies and dietary restrictions in mind. Also, if your school or center has a food policy, be sure to review it prior to planning.
For the Devoted Mathematician
Younger children will delight in designing Trails of 100 throughout the room. Use coconut numbers, snap cubes, lacing beads, or even Magna-Tiles to form a continuous trail in the room. Which material creates the longest line of 100? The shortest? The straightest? The curviest?
You can do amazing things with tens frames. Find templates online or create your own and start filling them up! You can use bingo stampers or stickers, alternating colors or pictures for each group of ten. Maybe you can borrow from your math manipulatives and use counters or Unifix cubes.
If your students are working on building number sense with greater quantities, they can work with partners to use base ten blocks to get to 100 in different ways. Challenge them to use only ones blocks, as few blocks as possible, or both tens and ones blocks to get all the way to 100.
For the Fitness Guru
Active learning doesn't have to be confined to recess. Put on your sweatband and pump up the kid-friendly jams! Pick 10 simple moves and complete ten reps each to get all the way to 100. Arm circles, jumping jacks, dinosaur stomps, bunny hops...be creative or keep it simple. You can even have your MOST active students be special helpers for this activity. Looking for something more low-key? Pick ten stretches and hold each one for ten seconds as you count to 100. Or maybe 200...
For the Language & Literacy Enthusiast
Pick from one of dozens of read alouds geared toward the 100th day of school and pair it with some discussion or writing activities, depending on the abilities of your students. Start things off by asking about the first day of school versus the 100th day.
What have they learned?
How have they changed or grown?
If you are feeling more adventurous, you can talk about how school looked 100 years ago or what it might look like 100 years from now. An exploration of what has been invented in the last 100 years could also lead to some meaningful and interesting ideas about the concept of '100'. Can you imagine the looks on their faces when you break the news that there was no internet?!
No matter how you decide to celebrate, remember to keep it simple and kid friendly. The 100th day is a wonderful time to take a pause from daily routines to celebrate your community of learners, admire how much they have learned, and look forward to the rest of your school year together.
What 100th day of school activities do you like? Check out some more ideas on our Pinterest board!
Since graduating from Juniata College in 2008, Leah has worked as a Learning Support Teacher, Life Skills Support Teacher, Instructional Coach, and is currently teaching 6th Grade ELA and Social Studies at Shippensburg Area Middle School. When not busy teaching or scouring Pinterest for teaching ideas, Leah enjoys reading, baking healthy treats, and practicing yoga. She currently resides in Greencastle, Pennsylvania with her husband and daughter.