Summer Science Activities for Preschoolers
Summer was made for science! It's the perfect season to learn more about the sky, the sun during the day and the moon at night and celebrate bright days with colorful science! Check out these summer activities for preschoolers.
Summer Activities for Preschoolers:
Books About Summer for Preschoolers:

While you're thinking about new summer activities for preschoolers, consider adding these books about summer for preschoolers.
Nonfiction:


Staying Safe in the Sun by Acorn Books
Seashells, Crabs, and Sea Stars by Christiane Kump Tibbitts
Daytime and Nighttime All Through the Year by Diane Lang
Zoo in the Sky by Jaqueline Mitton
Planting a Rainbow by Lois Ehlert
Earth! My First 4.54 Billion Years by Stacy McNaulty
Moon! Earth's Best Friend by Stacy McNaulty
Sun! One in a Billion by Stacy McNaulty
How to Survive as a Firefly by Kristen Foote
So You Want to Be an Owl by Jane Porter
The Turning of the Year by Bill Martin Jr.
The Reasons for the Seasons by Gail Gibbons
Do I Have to Wear a Coat? by Rachel Isadora
Fiction:


Four Seasons in One Day by Jessica Courtney-Tickle
Pop! by Jason Carter Eaton
Fun in the Sun by David Catrow
The Sandcastle that Lola Built by Megan Maynor
Cannonball by Sacha Carter
The Hike by Allison Farrell
The Camping Trip by Jennifere K. Mann
Down by the Bay by Nadine Bernard Westcott
The Grasshopper and the Ants by Jerry Pickney
Night Animals by Gianna Marino
Summer Science Webinar Recording:
We hosted an amazing webinar all about summer activities for preschoolers that are all about science! Watch the replay below and let us know if you have any favorite summer activities for preschool that involve science.
Summer Science Presentation
Download the Summer Science webinar presentation here.
Standards & Alignments
The activities and resources outlined here align with many early learning standards.
ECERS-3
Children have a natural desire to explore, to build, and to question. Through open-ended exploration, children interact with materials in nature and scientific materials/tools to explore and learn about their world.
PA Early Learning Standards
Children have an innate desire to experiment and investigate while gathering data to make conclusions.


Children's immediate environment and daily surroundings provide the best context for science learning. Some ways they do this include observing, measuring, investigating, sorting, and comparing.


Adults scaffold children's thinking by asking open-ended questions that encourage problem-solving and critical thinking.
Head Start
Children first construct scientific knowledge by using their five senses to interact with the environment. That is how they make sense of their world.


Young children's incli­nation to be curious, explore, experiment, ask questions, and develop their own theories about the world makes science an important domain for enhancing learning.


Problem-solving skills, children's reasoning, and their representation of their learning becomes more complex as they gain new abilities to ask questions, gather information, and think critically.
CLASS
Adults facilitate activities to promote students' higher-order thinking skills, such as problem-solving, predicting, comparing, and classifying.
ALL
Adults facilitate children's development of those skills that support discovery and inquiry while promoting their natural curiosity.
Share Your Summer Activity Photos with us!
We'd love to see how these summer actvities for preschoolers worked out for you and your students. Tag us on Facebook or Instagram!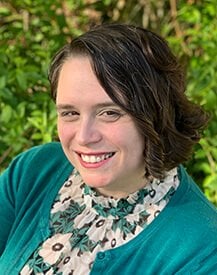 Hollie is certified K-8 teacher who has been educating in the informal education field since 2005. She has developed and implemented countless exciting STEAM programs for families, classrooms, and teachers focused on the natural world, the scientific process, and ancient life. Her professional passions are inquiry, whole family learning, experiential learning starting in early childhood, and the intersection of literacy and science instruction.
She has recently developed a community-based program that encourages families to use dramatic play to learn science, increase literacy skills, and have fun together for which she received the Drexel University Presidential Award for Civic Engagement. She is most proud of her work on a popular science storytelling program for preschool families and classrooms that combines a book club format with engaging programs, innovative curriculum, and a hysterical puppet storyteller.