Nature Science Activities: Fruits and Seeds
This is the second in our series of Nature Science Activities blog articles.
Fresh fruits and veggies are not only delicious, but they can also be the start to some awesome learning adventures.


Sprouts and Seeds
Regrowing food from kitchen scraps is a fast and fun way to teach your little ones about where their food comes from. They also provide the start to a conversation about food waste that is understandable to the whole family. You don't need any outdoor space to regrow lettuce, scallions and celery from the cut ends of your store bought produce. Sprout mung beans and alfalfa sprouts for plants your littles can watch grow quickly each day. Collect seeds from your fruits. Once cleaned and dried, they'll be ready for a garden next year! See below for more resources on regrowing food from produce.
Pretend Play with Produce
Does your kitchen play area need an update on toy produce? Look for "unique" fruits and veggies beyond the standard apples, oranges, and lumpy potatoes. These additions can lead to a greater interest in tasting and cooking with a wider variety of fresh produce. Add tropical fruits from far away places and local veggies. Can't find what you need? Make them! Get air dry clay, fill some socks with fluff and add details with markers, or even make 2D versions out of felt. The important thing is to pique interest in more fruits and veggies, not to be scientifically accurate!
Making your own ink from produce
Making natural inks and dyes can be a fun activity for the whole family. Red cabbage is the perfect starter for an easy ink. Crush red cabbage leaves with white vinegar. You'll end up with a pretty purple ink. Add some baking soda for a bubbling, blue ink! Experiment with boiling and crushing different fruits and veggies to make a whole rainbow of ink to paint with. See below for more resources on making your own inks and dyes from food.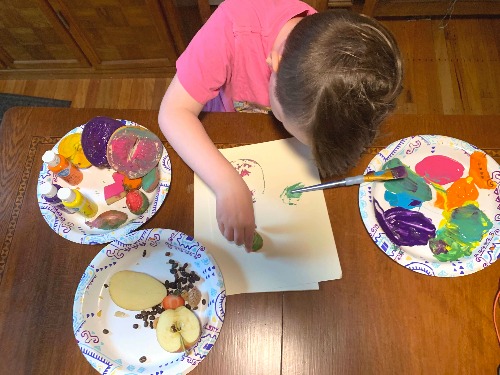 Produce Printing
Supplies needed:


Paint (any color - but washable is best!)
If you want to eat the fruits and veggies when you're done you can use food coloring. If you want a less messy option, markers work as well.
Fruits and vegetables
Sturdier fruits and veggies work best- potatoes, apples, citrus, onions, strawberries, etc.
If you don't want to use real fruits and vegetables, you can cut sponges in the shapes of various fruits and veggies or even use plastic toy fruits and veggies.
Seeds and nuts
Glue (liquid or stick)
Paper (a piece or two per person)
Paintbrush (optional)
A bowl, cardboard, or paint palette to hold your paint
Instructions:
Cut your fruit. Experiment with cutting the fruit: lengthwise and small slicing, quarters and halves, etc. Try cutting the potatoes and apples into shapes with either a cookie cutter or freehand with a knife.
Exploration Questions: Can you find seeds inside our fruits and veggies? Can you see any seeds on the outside of any of them? Which pieces show us the most seeds? Is the inside color of the fruit different than the color on the outside? How does the inside of the vegetable feel? What about the outside? Do you smell anything different when we cut the fruit?
Add paint or ink to your fruits and vegetables. Experiment with dipping them into the paint or dye. Try painting on the produce. Add color to the cut side and the uncut side. Use markers to color different surfaces on your produce.
Use your fruits and veggies like a stamp and make prints on your paper. Add seeds, nuts and dried fruit by gluing them directly to your art.
Exploration Questions: Can you see any shapes in the prints that you didn't see just by looking at the vegetable? Do you get more paint on your paper by dipping the fruit into the paint and then printing or by painting the fruit first and then printing? Can you mix coloring with your produce stamps?
-----


As you can see, there's lots of fun to be had with fruits and seeds in the classroom!
Share your fruit and seed activity photos or videos with us on social media, tag us on Facebook or Instagram.
If your students love learning about produce, they will enjoy these books:
Eating the Alphabet by Lois Ehlert
A Fruit is a Suitcase for Seeds by Jean Richards
Fruits in Suits by Jared Chapman
Fruits and Seeds Resources:

A Second Life for Scraps: Making Natural Dyes with Fruits and Vegetables https://thebeakerlife.com/a-second-life-for-scraps-making-natural-dyes-with-fruits-and-vegetables-b289a125fac2
How to (easily!) regrow vegetables from scraps indoors https://www.today.com/food/how-regrow-vegetables-scraps-t178572
Additional Product Resources for learning about fruits & veggies:
Tactile Domino Game - Fruits and Veggies
Melissa & Doug® Cutting Fruit Crate
Fruit & Vegetable Sensory Play Stones Set
Sprouts™ Fruit & Veggie Baskets
Watch the full Fun with Fruits & Seeds webinar here:
Check out the Nature Science Activities blog articles about Fun with Worms.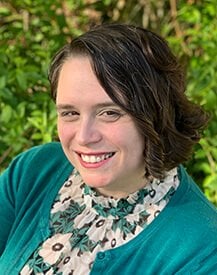 Hollie is certified K-8 teacher who has been educating in the informal education field since 2005. She has developed and implemented countless exciting STEAM programs for families, classrooms, and teachers focused on the natural world, the scientific process, and ancient life. Her professional passions are inquiry, whole family learning, experiential learning starting in early childhood, and the intersection of literacy and science instruction.
She has recently developed a community-based program that encourages families to use dramatic play to learn science, increase literacy skills, and have fun together for which she received the Drexel University Presidential Award for Civic Engagement. She is most proud of her work on a popular science storytelling program for preschool families and classrooms that combines a book club format with engaging programs, innovative curriculum, and a hysterical puppet storyteller.