Messy Play Without the Mess!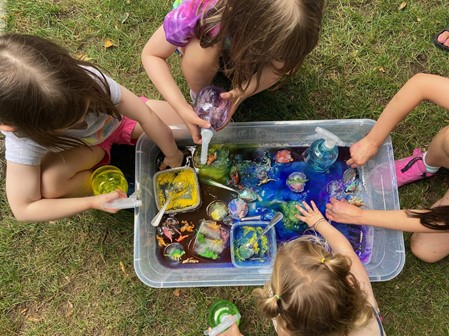 What is Messy Play?
Many parents and teachers can feel overwhelmed when children want to create with messy materials such as glue, paint, glitter, scissors, clay, or even play dough. It's fun, but so hard to clean up! It gets all over the floor! All over your clothes! Studies have shown that messy play is important for fine motor skill growth, sensory development, building independence, and language development. But how can we offer children these chances for growth while keeping our spaces and ourselves clean and tidy?
Curb the mess and set yourself up for clean-up success before the project even begins.
Easy Messy Play Ideas
Set up zones to catch the mess! Try using shower curtain liners (these can even be found in Dollar Stores!). Cover your tables with them and tape down the edges, and you can either wipe them down when you're finished or throw them away. Note that these will be slippery if placed on the floor, so they are best used on tables underneath your materials.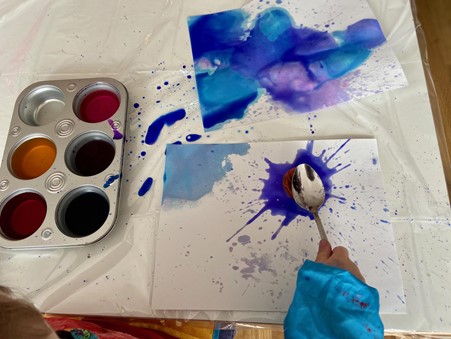 Cover the floor! Try placing a Becker's Messy Mat, Art Easel Floor Mat, or a canvas drop cloth on the floor underneath your table or sensory bins to help catch stray pieces. Mats or canvases can then be gathered up and loose items can be dumped into the trash can or back into the sensory bin. These can be wiped down or thrown in the wash if they get too yucky, but they, especially the canvas drop cloths, also build character when you can see paint splatter and other drips from previous play. You can even tack paint canvases to a wall in your painting area or save them to use as backgrounds when photographing your child's art.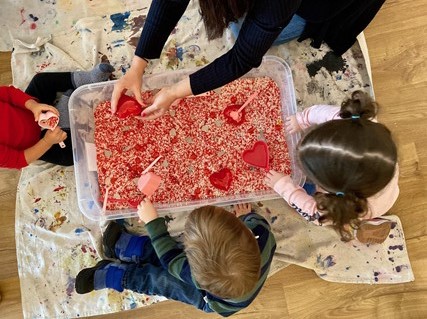 Dish soap to the rescue! To keep paint from staining clothing, rugs, and furniture, try adding a small amount of dish soap in with your paint. We love having children paint directly onto dinos, vehicles, and other toys, and the soap helps to ensure that the paint will wash off easily when we're done. It also helps wash paint out of clothing and other surfaces.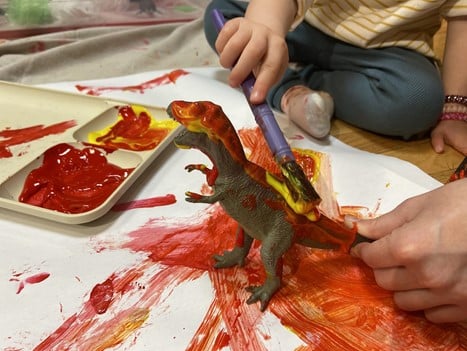 Mix glue and paint together! To save yourself a clean-up step when planning projects that involve paint and glue, you can mix glue and paint together. Then you have fewer bowls and brushes to clean when children are finished working. This mixing of paint and glue works well when children are creating collages or murals, or whenever they need to stick materials to a surface that is also to be painted.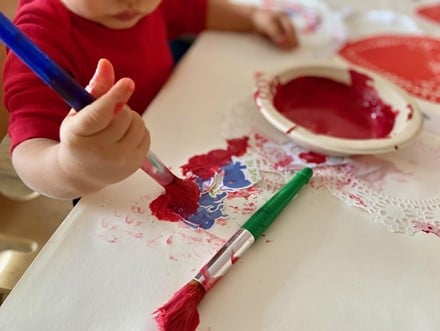 Use old clothes! We all think of wearing smocks when we want to keep clothing clean, but have you ever thought of trying old t-shirts or button down shirts over your children's clothing? This is a perfect way to use old shirts that you no longer wear while keeping current clothing protected!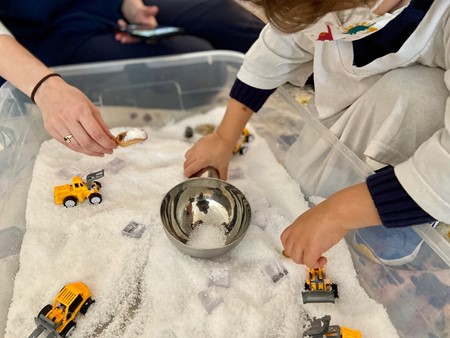 Take it outside! If a particular project is still feeling too messy and the weather cooperates, take your project outside. Bring a bucket of water, wipes or paper towels, large mesh laundry bags, and garbage bags to help make clean-up easy and quick. We host weekly outdoor sensory play playgroups in nice weather. When the children are finished with materials, we often put all the materials in a mesh laundry bag and then hose them down or place the whole bag in the sink to wash everything quickly and efficiently. If there's no hose handy, a bucket of water is perfect for rinsing hands and materials. Wipes and towels are great for cleaning those sticky hands.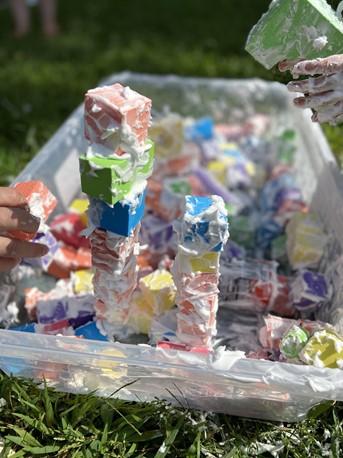 Many children love messy play and stay engaged for extended periods of time. During this play, they are also building their fine motor, language, and problem-solving skills. We hope these messy play ideas will help you feel more comfortable with messy play. Have fun!
What are your messy play ideas? Let us know on social media! Tag us on Instagram.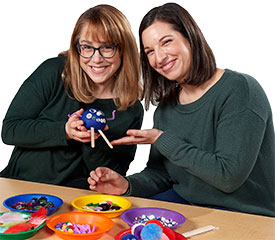 With over 30 years of combined teaching experience between them, early childhood educators Nicole Werther and Rachel Miller know just how to keep your young children engaged—let them take the lead! Their small business, Backyartists, encourages creative thinking and discovery through the magic of process art and sensory play.
Rachel and Nicole are Becker's Creative Arts Content Advisors and have used their knowledge of process art to create resources, such as blog posts and activity ideas, to inspire teachers and parents when planning projects with the Artful Goods materials.
They also offer playgroups and classes in the Boston area. Check out Backyartists.com for the most up to date offerings.