Highlights from NAEYC's Annual Conference 2018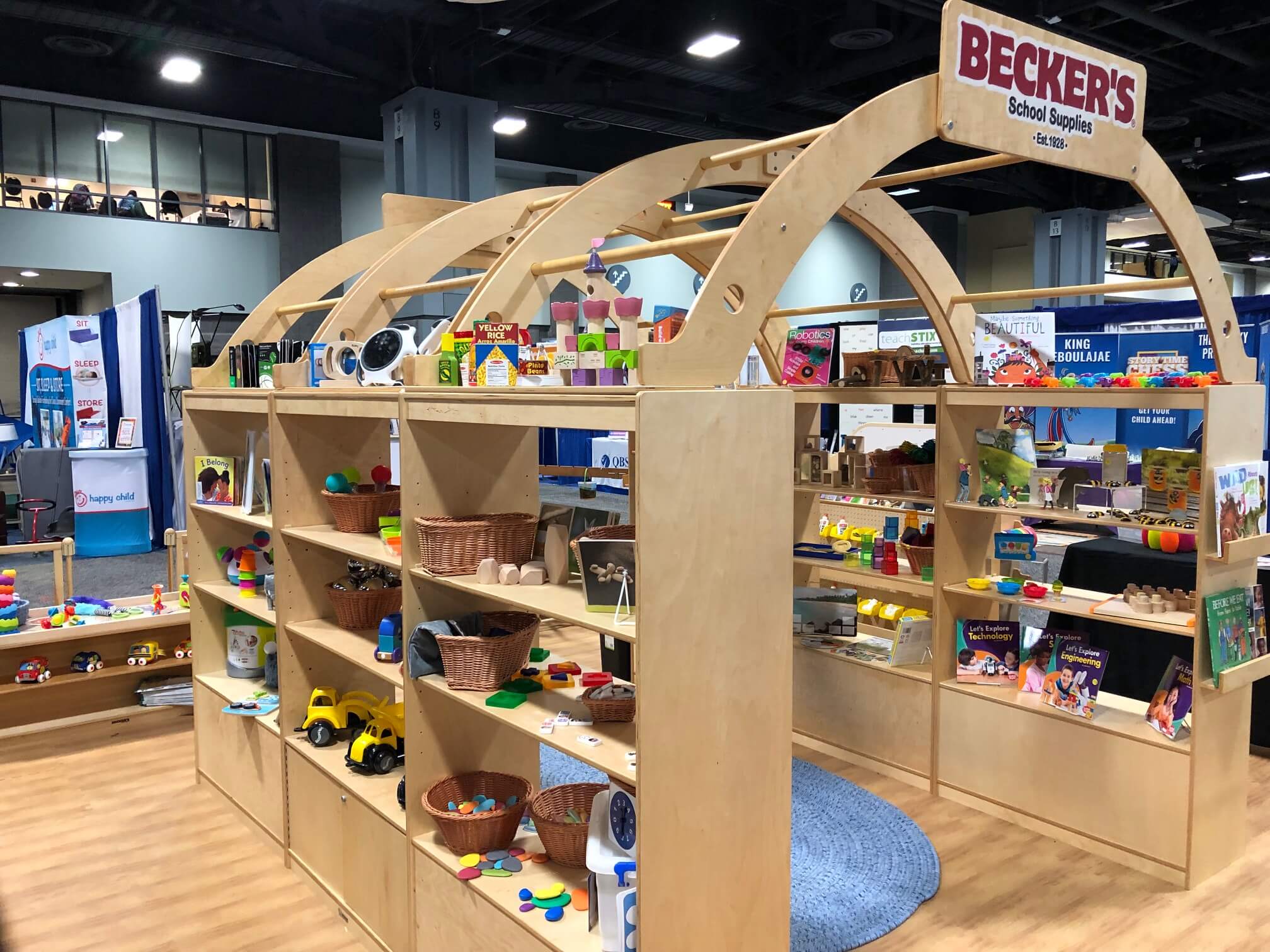 We had such an amazing time at NAEYC's Annual Conference 2018 in Washington, DC last week. It is one of the premier conferences for early childhood educators and others who work in the field of early education. The Exhibit Hall is always a big draw for attendees with new products being showcased and lots of featured giveaways and author autographs! The workshops offer superior learning opportunities from experts in the early childhood field. Becker's takes great pleasure in having a large booth in the Exhibit Hall to display new products for 2019!
Here are some of the highlights from our booth including images from the Every Day is a STEM Day presentation that our own Leslie Eslinger presented to a packed house.
Mud Kitchen Set
When it comes to outdoor play kitchens, this set was a hit! This durable educational play kitchen is made of Eucalyptus wood and bowls made of stainless steel. Displayed with Play Dirt and lots of awesome new outdoor learning accessories – it was hard for anyone to pass by without making a mud pie!
KIBO Robot
We loved showing off how easy it is to integrate robotics and coding into early STEM/STEAM programs with the KIBO Robot! Visitors to our booth loved when we demonstrated how they could learn to code in one simple lesson and saw how easy it would be for their students to become instant programmers!
Mindfulness Card Deck
"Close your eyes." That's how many of the mindfulness activities begin and you feel calmer and your mind gets quieter right away. Trust us – these cards will be your new best friends in the classroom. We're proud to have collaborated with Bari Koral on this great Yoga & Mindfulness Starter Pack!
Leslie's Workshop – Every Day is a STEM Day!
Move over literacy – we need to give STEM a little more attention in our early childhood classrooms. Becker's STEM products capture the excitement of 21st Century Learning by providing engaging materials to stimulate critical thinking, creativity, and collaboration. Discover the Ramp 'n Roll Set, Build-A-Bridge, and the soon to be released Balance Challenge.
We're already looking forward to NAEYC's Annual Conference 2019!