6 Book Sets for Multicultural Children's Book Day
Updated April 2020
Since 2014, Multicultural Children's Book Day is celebrated on January 27th to raise awareness for children's books that celebrate diversity. Diversity is a topic near and dear to our hearts. We offer a wide array of books that promote acceptance of diversity and materials showing people of different races/cultures, ages, abilities, and gender in non-stereotyping roles. Below are some of our favorite children's books that embrace a wide spectrum of children and families of different colors, cultures, abilities, and nationalities.
Diversity Books for Infants and Toddlers: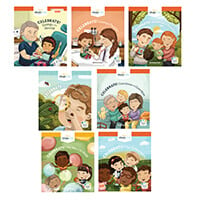 Celebrate Diversity - All are welcome and celebrated in this delightful series of stories focusing on the common ground among us that builds strong bonds between friends, family, and others we see each day. Children will get to know each character by name and feel like they've made new friends! These diverse children's books do an exceptional job of representing all kinds of diversity in an honest and unbiased way. This 7 book set is recommended for ages 18 months+.
Global Babies Book Set - The Global Babies Book Set allows babies to take an around the world journey and look at realistic images of other babies being cute, smart, fun, curious and sleepy just like them! All 5 books included in this book set are recommended for ages birth+.
Our World: Babies Book Set - The Our World: Babies Multicultural Board Book Set will allow you to build awareness of authentic cultural diversity. Each of the 4 board books featured in this set are recommended for ages birth+ and focus on how babies are raised in different cultures.
Diversity Books for Preschoolers: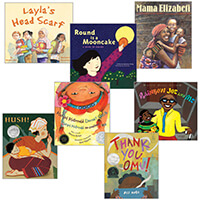 Becker's Multicultural Collection – This Multicultural Collection Book Set gives an honest representation of life for children and families of diverse cultures. The stories are from near and far, allowing students to be exposed to many different cultures worldwide. This diversity book set featuring 7 books is recommended for ages 4+.
Becker's My Multicultural World Book Set - Finding children's book sets that address cultural and racial differences are plentiful and choosing the right ones for your class can be challenging. This Multicultural Book Set includes 7 books that will introduce children from many different cultures and places through memorable images and stories. These children's books about diversity are recommended for ages 4+.
Multicultural Me – This set of 3 multicultural children's books celebrate humanity and diversity with valuable messages for all of us. Recommended for ages 4+.
What are some of YOUR favorite books about celebrating diversity, cultures, and differing abilities?