Trust The Process: Nurturing Young Artists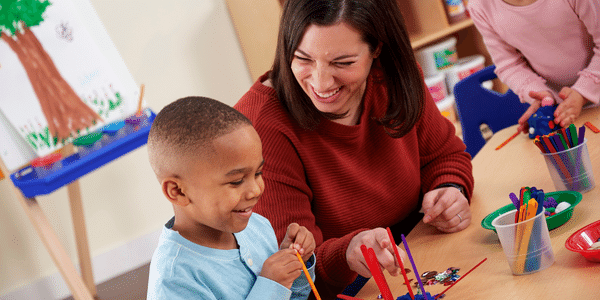 Ways to Nurture Young Artists
What's a teacher to do? We've all had it happen - you work so hard to plan and set up an interesting and engaging art activity that invites children to explore and create and the children, or perhaps just one or two children, are not interested. What can you do when this happens? How do you draw in those children who seldom want to create art or who come over for two minutes and declare they are finished? We get questions like these often.
Here are some helpful tips:
What can you do when the children are not interested in the activity you set up?
First, step back and observe to figure out why the children are not interested. Is there something else happening that is very exciting? Are they all engaged in other activities? Or are they feeling bored with what you've set up? (Boredom can present as uncooperative or disruptive behavior.)
Once you know why they are not participating, you can adapt your activity - if they are engaged in something else at the moment, leave your activity out for several days. If they are bored with what's set up, try changing it up. How can you make the activity more aligned with their current interests?
What do you do when one child refuses to participate or comes over, but leaves after a few minutes?
We never force children to participate in activities, however there are ways to encourage them and get them interested.
Try noticing what that child IS interested in (and taking notes and photos, so you can remember later). Can you find ways to incorporate those interests into the art area? Are they always playing with cars and blocks? Bring cars and blocks into the art area! Try painting with cars or building with blocks and modeling dough.
Have a teacher sit at the art table for a period and engage with children as they're working. This often encourages children to approach the area. Teachers can engage with children about the materials available and what they notice as children are working.
Try keeping projects out for several days and adding in different materials over time. New materials can enliven the projects, and keeping the same base allows children to build their skills as they work with familiar materials. Have you had paper and paint out? Try throwing in colorful pom poms, wooden craft sticks, feathers, and some glue to change things up.
Scaffold projects for children. Find ways to support a child if the project is too challenging for them. For example, if you have children cutting ribbon with scissors but a child is struggling, try holding the ribbon taut for children to snip. Find ways to make them feel successful.
How should I respond if a child asks me to draw something on their page?
Repeat back what the child is asking and brainstorm together some ways the child can draw it.
Find real world pictures to show as an example. Together, look up photographs in books or online. Talk together about shapes, colors, and details you notice, and ask them what they think should be drawn first, next, etc. Remind children that there is no "right" way to make art.
What do I do if a child says they're done after only gluing one feather on the page?
Let them know that's okay and that their project will be there if they'd like to add to it later.
Ask if they'd like their picture to be saved and show them where it will be kept so they can retrieve it at another time.
Keep the same materials available for multiple days or add new things to it, so maybe they'll be inspired to add different materials later.
How do I encourage creativity and open-ended access to materials while also building awareness of limited supplies, not wasting resources, and being ecologically attuned?
Encourage reuse of materials by having a variety of upcycled and store-bought materials available.
Talk to children about what may happen if the supplies are all used.
Set out small quantities at a time so that supplies are not used up immediately. Often children need less than they think they do.
How does documentation play a role in future planning?
Take notes and photos as you observe children creating and take photos of their finished projects to help you identify the children's interests, strengths, and challenges. For example, if children are working on scissor skills and you've offered ribbon or tape for cutting, and children become frustrated, you may choose to offer construction paper for snipping with scissors or ripping with hands instead. Have you noticed that the children are playing restaurant every day in the dramatic play area? Try adding restaurant play to your art area too. Children can create food, menus, and more that can be used for play. .
Display photographs of children's finished work at their eye level. This will build pride and confidence in their creative abilities and encourage them to take artistic risks with new materials.
Engage children in conversations while viewing photos of their previous creations. This can build confidence and encourage children to try new materials and ways to create.
Please remember that not every technique is successful every time. As children learn how to use different materials and gain skills, their confidence in their own abilities will grow. When they see you've noticed their interests and are bringing these interests into the art area, they will be more likely to engage, learn, and succeed.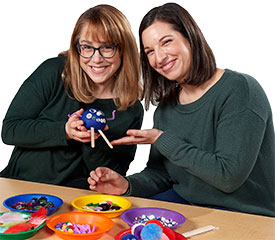 With over 30 years of combined teaching experience between them, early childhood educators Nicole Werther and Rachel Miller know just how to keep your young children engaged—let them take the lead! Their small business, Backyartists, encourages creative thinking and discovery through the magic of process art and sensory play.
Rachel and Nicole are Becker's Creative Arts Content Advisors and have used their knowledge of process art to create resources, such as blog posts and activity ideas, to inspire teachers and parents when planning projects with the Artful Goods materials.
They also offer playgroups and classes in the Boston area. Check out Backyartists.com for the most up to date offerings.