Go Beyond Basic Finger Painting!
Going Beyond Finger Painting for Preschoolers
Toddler classrooms are known for basic finger painting experiences, as they are often decorated with handprints (as well as footprints in classes led by braver early childhood teachers) and messy mixes of paint on paper. However, many preschool classrooms do not move beyond the basic version of this art form.
Here are 5 "out-of-the-box" ways to extend finger painting for toddlers:
1. Ice Painting
Ice painting can take on a variety of forms. Regardless of the method that you use, children will be able to enhance their painting experience in a new and exciting way, and they will be able to explore the changing quality of the ice as it melts from solid to liquid, adding another cognitive domain to the activity.
Teachers can provide children with ice cubes to dip in simple, washable, non-toxic paint. As the ice cubes melt, the paint begins to form a more watery consistency.
Teachers can freeze a paint and water mixture, as well as washable, non-toxic liquid watercolor paint in ice cube trays, and have children paint only with the ice cube, as it begins to melt.
Note that ice painting does not need to be limited to paper. Teachers can take their preferred method of ice painting outside of the classroom as well. With all versions of the activity being washable, children can paint on sidewalks, on the playground or at the park!
2. Mud Painting
Mud painting, like ice painting, is another interesting way for children to explore the changing properties of matter through art. Mud painting can be done indoors but is typically more enjoyable for everyone outside. Teachers simply help children mix dirt and water to create mud for painting. For an added level to the activity, the class can experiment with the ratio of dirt to water, creating darker, lighter, and various textures of mud paint.
Mud paint can be mixed and utilized with children's hands, or, for children that prefer avoiding messy art, with toddler-friendly easy to grip paint brushes. The mud can then be painted on paper, cardboard, or sidewalks, which can be rinsed easily with a hose or from rain.
Mud paint can also be used in a large sensory table, such as one of our outdoor play tables, or on a long piece of butcher paper on the floor or attached to a table.
3. Water Painting
Water painting is simple, inexpensive, and virtually mess free. Water painting is recommended for outdoors. Toddlers can use easy to grip paint brushes, like those listed above, dipped in water to "paint" playground structures, benches, sidewalks, trees, etc. While the color of the item being "painted" will temporarily change color, the water will not damage these outdoor materials. Children will be able to engage in dramatic play as community helpers, artists, and any other creative roles that they come up with, in a new and interesting way.
4. Ball Painting
Ball painting allows children to work individually or collaboratively to create painted pieces of art, not with their hand or with paint brushes, but with a rolling ball. A piece of paper is simply laid inside of a box top. Non-toxic, washable paint, like that listed above, can either be poured onto the ball or onto the paper. Then, the box is shifted around as much as the child likes, allowing the ball to roll a design onto the paper with the paint. Tactile balls add different patterns to the design for added fun!
5. Texture Painting
Texture painting allows children to create paintings of various textures, using simple tools and materials from around the classroom, offering new alternatives to the age-old methods of finger painting or painting with brushes. Non-toxic, washable paint, like that listed above, can be painted onto, or traced through, on paper with spoons, forks, socks on hands, sponges (either simple sponges or sponges of various sizes and shapes for added exposure in other cognitive domains), felt pieces, sticks, tissue paper, etc.
Toddlers may even like to try out various tools to compare textures in their artwork, making the process both creative and tactile. Furthermore, it creates interesting, "out-of-the-box" final products!
Expanding on the timeless activity of finger painting in the toddler classroom will help expand young children's creative thought processes and will revitalize the toddler teacher's repertoire of art activities.
Furthermore, as required by ITERS, through these activities, toddlers will have access to varied fine motor and art activities and learn about nature and science in interesting and developmentally appropriate ways. So get ready to go beyond finger painting!
-----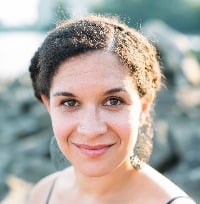 Zaina Cahill, Pre-K Regional Instructional Specialist for the School District of Philadelphia, is a graduate of New York University (B.S. in ECE and Special Education) and Walden University (M.S.Ed. in Elementary Reading and Literacy), and has worked in a variety of capacities in the field of education working with toddler through elementary school children and their families, including children with special needs. In particular, Zaina has a passion for working to promote diversity, equity, and inclusion in the education environment. In Pennsylvania, Zaina holds Level 2 teaching certification in ECE, as well as PQAS (PA Quality Assurance System) certification to offer professional development. In addition, she is a certified CLASS observer (Infant, Toddler, PreK). Zaina is also adjunct faculty at Arcadia University, in the school's graduate program for Early Childhood Education. Zaina is a member of the NAEYC Affiliate Advisory Council, the Exchange Leadership Institute, and the Philadelphia Race Matters and Cultural Competency Learning Circle. In 2016, Zaina was an honoree in attendance at the White House Teacher of the Year Event, hosted by Barack Obama, and has offered testimony in congressional hearings advocating for children and early childhood educators. In addition to presenting at various local, state, and national conferences, Zaina has also made a number of written contributions to blogs and education publications.
The opinions, representations, and statements made within this guest article are those of the author and not of Becker's School Supplies as a whole. Any copyright remains with the author and any liability with regard to infringement of intellectual property rights remain with them. The company accepts no liability for any errors, omissions or representations.
Inspiration for Arts & Crafts
Click on a blog article below for creative inspiration!