3 Easy Art Lessons for Social Emotional Learning
Art is a tool for expression inside and outside of the classroom. Since becoming aware of the importance of Social & Emotional Learning (SEL) concepts in the development of young children, the team at Roylco focuses on how to weave these concepts into classroom activities. Today, I'm going to share a few fun classroom crafting projects that incorporate foundational SEL topics.

Before diving in and redesigning your art curriculum to include SEL concepts, I want you to pause. We are always learning and improving how we educate tomorrow's leaders, and SEL is no exception to that. I fully expect that in 10 years, we will look back and ponder how little we knew on this topic. Use the information available and your concern for each student as your guide and give yourself grace!

Here are a few art activities that I love to fold into any curriculum as "about me" projects that develop children's understanding of themselves and their environment:
1. Draw thyself (to know thyself)

Okay, I know this sounds basic, but it lends itself to countless SEL activities when done thoughtfully. Ask your students to draw themselves. Use these pre-made Face Pads to emphasize how well they can draw a person (art that I have never mastered myself!) and place emphasis on capturing their facial features. While students are drawing, walk the classroom and ask, "what are some things you notice about your appearance?". Next, ask students what they notice about themselves that doesn't show on the outside.

Afterward, I like to ask a few questions to the class as a group, such as:


How does your face change when you are feeling sad? What kinds of things make you feel sad?


How does your face change when you are feeling happy? What types of things make you feel happy?


How does your face change when you are feeling angry? What types of things make you feel angry?


How does your face change when you are feeling excited? What types of things make you feel excited?


Use this as an opportunity to point out how we all have similar feelings when x, y, or z happens—it is an easy segue into discussing empathy for classmates, friends, and family. You can also discuss how we don't all show our emotions the same way.

2. Emotional Expression through simple colors and squiggles
This exercise requires a quick warm-up and several sheets of copy paper per student!

Warm-up:
Ask students to fold and tear each sheet into four pieces. On the first piece, ask them to choose a color and demonstrate the emotion "happiness" using only lines and squiggles. If there is hesitancy (and there is typically), reiterate the instructions several times—there's no right or wrong way to draw happiness!

Do the same thing with the other 3 pieces of paper to demonstrate 3 other common emotions: annoyance, anxiety, contentedness, joy, anger, sadness, frustration, fear, nervousness, and surprise.

The real deal:
Now, have each student lay a piece of copy paper lengthwise on their desk, and using 1 line but as many colors, as they need to, draw how they feel throughout their typical weekday as a squiggle across the sheet. You might find it helpful to complete one yourself and then talk the class through your day beginning to end and how you represented that through colors and squiggles.
Here's mine: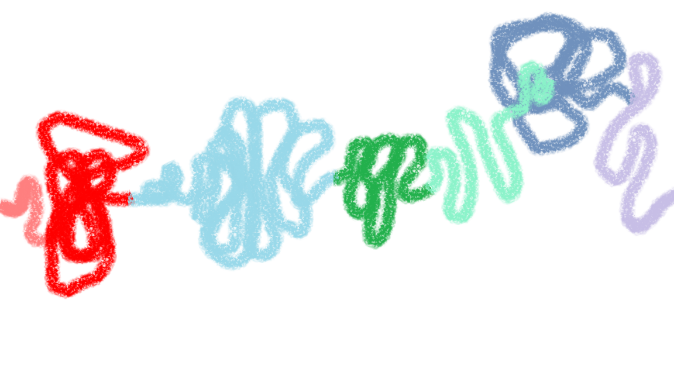 You can see that I'm NOT a morning person—I chose to describe that with the red squiggles at the beginning that turns into calmer colors throughout the day. The green is my productive, high-energy kick that comes towards mid-day, and the high point of my day is the darker shade of blue near the end; this represents when I go for a walk near the end of the day. Finally, the lilac color represents relaxing before bedtime.

After the class has had ~10 minutes to complete their squiggle thoughtfully, it's an excellent opportunity to discuss how awareness of your emotions and mindfulness can often make you feel more in control of your emotional state. It's the difference between acting on your environment and letting your environment act on you.
3. How you fit into your world
For this activity, have students draw lines to separate 1 piece of paper into four equal sections. They can label each section as Family, Friends, Home, and School.
Section 1: Family

• Ask the students to draw their families. While they do it, ask them to think about how their family fits together—do they have siblings? Are they older or younger? How does their family make them feel?

Section 2: Friends

• Ask the students to draw themselves with their friends in this box. Let them know it's okay if they draw just one friend or if they want to draw a family member who is also their friend. How do their friends make them feel?
Section 3: Home

• Ask the students to draw a picture of themselves at their home. How do they feel when they are at home?

Section 4: School

• Last, ask the students to draw a picture of themselves at school. How do they feel before school? After school? During school? Mentally prepare yourself for some honest sharing.
Afterward, students can share their drawings and explain if there is time. I like to use this activity to explore all the different emotions that might be present among these four environments and point out that they can let you or a trusted adult know if they ever feel fear in any of these environments.
How do you incorporate social emotional learning into your art lessons? We'd love to hear from you!
Darby is the director of Business Development at Roylco, an American designer and manufacturer of high-quality products for childhood education and development. Outside of work, Darby likes to spend as much time as she can in nature and traveling to new places. If you would like to chat, you can reach her at Darby@roylcoinc.com.