Unwrapping the Mystery of Unit Bricks
Is it a brick? Is it a block? Is it a construction toy,
a STEM activity, or a math manipulative?
Yes, Yes, and Yes.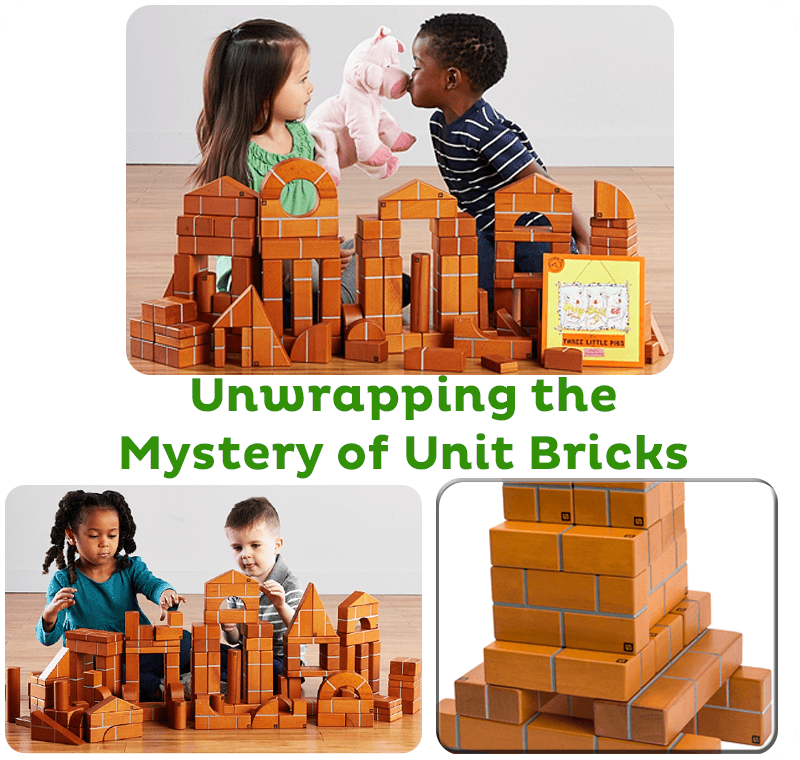 Meet the newest block on the block! Move over unit blocks, make room for change. Unit Bricks have landed.
How are they the same as Unit Blocks?
Size: They are sized the same as standard unit blocks. Each size is a fraction or multiple of the basic unit.


Shape: They come in a variety of shapes from squares, pillars, rectangles, arches and more just like unit blocks.


Composition: Unit Blocks can be made from maple, birch, or other hardwoods. Many unit blocks sets are made from rubberwood. Becker's Unit Bricks are made from German beech wood which is harder than rubberwood.


Play Value: Both offer opportunities for open-ended exploration, problem-solving, creativity, as well as building social, math, and language skills.


Why should I add Unit Bricks to my block area?


Because they do everything like Unit Blocks and more!


Aesthetics: Unit Bricks are visually interesting. They look like real bricks with textured grooves to make them feel like a brick.


Educational Value: They prompt us to teach children about bricks as building material. It's one of the oldest and strongest materials used to build structures. Bring in a real brick and compare weight, size, texture, and functionality.


Novelty: We know from research that a child's brain is drawn to something new and novel. Immersing a child in an environment with unique materials that stimulate all the senses alerts the brain to ready itself for learning.


Versatility: There are no preconceived ways on how to use these. Children will approach them with an open mind and a creative spirit.


Neighborhood Awareness: Building materials that resemble what they see in their own houses or community buildings will heighten children's awareness of their surroundings.


Encourage Engineering: Building blocks that look like real building materials will stimulate different types of construction. Children can learn about the work of real bricklayers; engineers, architects, and other construction-related professionals.
Don't take our word for it, maybe this video will convince you!


And Then Came the Beams and the Rocks


If you're not quite convinced these are an awesomely cool addition to your classroom, consider these accessory products. If bricks aren't your thing, maybe rocks are. Unit Rocks have all the same features as Unit Blocks and Unit Bricks but they're designed to look like stones that would be used for building.


There's one thing that Blocks, Bricks, and Rocks all have in common. They are all compatible with Unit Beams. So if you're looking for some realism in your block area, send in the beams! They look like steel girders and will bring your buildings to new heights!


References and Inspiration:


https://www.huffingtonpost.com/russell-poldrack/multitasking-the-brain-se_b_334674.html


https://www.researchgate.net/publication/225661536_Neuroscience_Play_and_Early_Childhood_Education_Connections_Implications_and_Assessment