LEGO® Education Solutions for Early Learning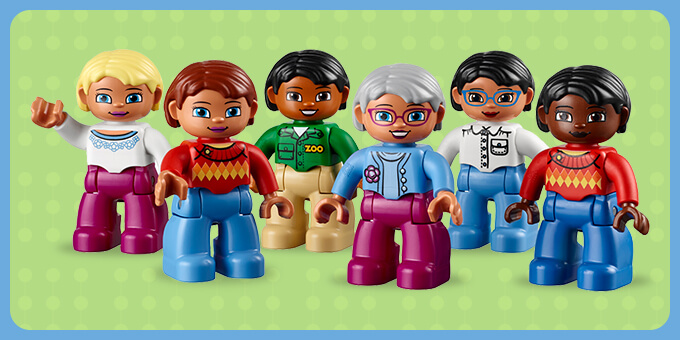 LEGO® Education Solutions for Early Learning uses play to introduce the world of early math, science, and language skills for young children. Developed in collaboration with university leaders and educators in the classroom — and tested by teachers — LEGO early learning products are designed to ignite curiosity and integrate easily into your preschool classroom or child care center.
Here are just a few of the *NEW* LEGO Education products available from Becker's now!
LEGO® Education for Early Math & Science


Taking the familiarity of a train and combining it with the new action bricks, early learners will learn through play about sequencing, looping, conditional coding, and cause and effect by placing the new action bricks within the train's track. Each action brick creates a specific action allowing for students to test and redesign ways to problem-solve and work together to get their train to its destination.
STEAM Park builds on every child's natural curiosity and desire to create, explore, and investigate the world of early science, technology, engineering, art, and math (STEAM) through creative play. With every trip to STEAM Park, children grow their understanding of gears, motion, measurement, and solving problems together in a fun and engaging way.
LEGO® Education for Early Language & Literacy


Promote creativity, imaginative storytelling, and language development with this unique and engaging storytelling set. Children will naturally collaborate and develop speaking and listening skills as they build their stories and role-play.
Spark children's creativity as you encourage collaborative building and storytelling. The very large set lets children build settings, models, and characters as big as their imaginations! After they construct together, children will tell and listen to stories, enhancing their language development along the way.
LEGO® Education for Social & Emotional Development


There's a lot happening in Our Town. It's a busy community full of everyday heroes and activity. And, with so many different urban environments to explore, children's minds will be busy too. Each scene is a fun opportunity to create, collaborate and discover what it means to work and play together.
LEGO® DUPLO® Build Me Emotions Set
Build Me "Emotions" invites preschoolers to explore emotions and physical characteristics in a fun and engaging way. As children collaborate on a range of character building experiences, they recognize feelings and identify similarities and differences. Building cards provide support and inspiration so children can continue to build and rebuild characters again and again!
LEGO® Education for Creative Exploration


Watch children explore their creativity as they collaborate and construct! The set includes more than 500 pieces, which let large groups of children build together and inspire one other as they construct animals, buildings, vehicles, or anything else they can imagine. You also can focus on shape and color recognition, counting, and patterning for developing early math skills.
LEGO® DUPLO® Creative Brick Set
Set children's creativity free with this imaginative LEGO® DUPLO® Creative Brick Set. Not only will it inspire big ideas in young minds, but it will also encourage self-expression and develop fine motor skills as they build, deconstruct, and build again. Building cards provide support and inspiration so children can enjoy endless building fun!
Looking to bring LEGO® Education into your classroom? Browse our collection of LEGO® Education products for early childhood! Contact a Becker's sales or customer service representative for more information! Call 800-523-1490.