Outdoor Learning: Taking the First Step
Early childhood educators know that children learn all day, including during their time spent playing outdoors. The National Association for the Education of Young Children (NAEYC) cites many benefits of outdoor play for students and teachers alike, including boosts to physical health and better sleep. It also includes encouraging children to learn about science and nature, creates opportunities for social interaction and collaboration, and allows for learning activities that are difficult to execute inside.
With physical distancing now a regular feature of many classrooms due to the COVID-19 pandemic, the outdoors also offers opportunities to build the relationships and social connections that are so critical to early learning. It's is a great time to consider moving more of your day outside in any season!
Reflect on your mindset.
Many of us grew up with messages that outdoor play was best suited for mild and sunny days. Perhaps we feel reluctant to get wet or messy, or we recall well-meaning warnings that playing in cold weather leads to illness. To fully embrace the riches that outdoor learning has to offer, we must be ready to venture out together in all kinds of weather. How might you model genuine enthusiasm for going outdoors? Try seeking out the possibilities that are unique to the weather.
For example, our class recently finished a worm study that arose directly from the children's observation that our playground became covered with worms on rainy days – an observation that wouldn't have happened unless we went outside in the rain. When I think of that study, I picture the children squealing with delight as they held the wiggling worms, not the sopping wet boots that came with the experience. Speaking of which…
Gear up.
Everyone will be more comfortable – and more willing to stay outside – when they are dressed appropriately. Communicate to families that the children will be playing outdoors often and encourage them to send in items that will allow their child to make the most of it. If cost is a concern, consider asking families to donate outgrown clothing to keep in your school or center for community use. Anticipate clothing changes and build those transitions into your day. While they do take a great deal of time and patience, remember that they are also worthwhile learning experiences. Look for the fine motor coordination happening as children place their fingers in gloves; the collaboration displayed as a classmate helps another pull a zipper on their coat and the persistence practiced as a child pulls on heavy snow boots. And don't forget to include yourself in the process! Find what is comfortable for you so that you can embrace the playful opportunities outdoors. I remember feeling a little silly the first time I joined my students in puddle jumping, but now I wouldn't miss it.
Reconsider the possibilities.
There has been a recent movement to bring the outdoors inside, with natural items becoming fixtures in many classrooms. But how about bringing the indoors out? Consider your outdoor space as an extension of your classroom and rethink the kinds of playing and learning that can happen in that setting. Art explorations become portable by using clipboards or foldable easels. Load up the blocks in a basket or cart and set aside a portion of your space for outdoor building. A mud kitchen is a perfect setting for dramatic play. How about striking up the band outside with an outdoor music kit?
If it feels overwhelming to shift your focus outdoor learning, take small steps. Try extending your current outside time by just a few minutes over the week or bringing just one part of your day (such as circle time) outdoors and reflecting on what you notice about the change.
The outdoors presents so many rich and incomparable opportunities for learning. With a positive attitude, the proper gear, and an open mind, the outdoors can become a beloved learning environment for your students and you. So, get out there!
YOU MIGHT ALSO LIKE: Bringing the Outside In (to your classroom)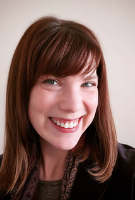 Adrienne Meade has been an early childhood educator for 16 years, working with children ages two through five. Her teaching practice is Reggio-inspired and is characterized by a particular focus on play, relationships, and wellness. Adrienne's blog, Dirt and Bricks, documents the collaborative learning experiences she shares with her students. Her writing has been featured in The Hechinger Report and Natural Parent Magazine.
The opinions, representations, and statements made within this guest article are those of the author and not of Becker's School Supplies as a whole. Any copyright remains with the author and any liability with regard to infringement of intellectual property rights remain with them. The company accepts no liability for any errors, omissions or representations.