Teaching Healthy Attitudes About Food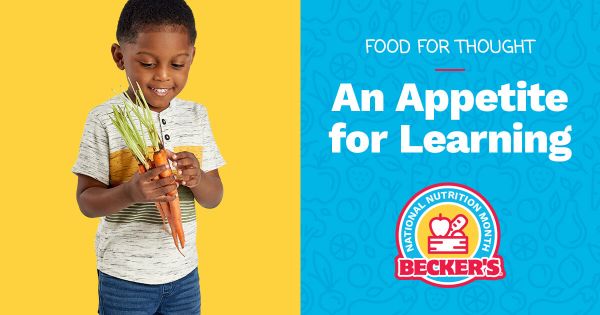 Early childhood is a critical time in human development. Just consider the tremendous changes that take place in the first few years of life: 90% of the brain's growth happens before age five! The learning that occurs during this period is powerful; it has the potential for a life-long impact. With American children at ever-growing risk for health conditions like high blood pressure and diabetes, early childhood professionals have an opportunity to provide not only the nourishing foods that support healthy physical development, but also the experiences that shape lasting understandings of nutrition. Through low-pressure and playful invitations, educators can help children develop positive associations with food that last for the rest of their lives.
National Nutrition Month is a good time to introduce students in the early childhood environment to nutritional concepts and help them develop positive attitudes about food. Here are some tips to consider!
Incorporate Literacy
Recognizing labels on familiar food packaging is an excellent way for young children to build an awareness that carries meaning. Invite families to collect labels to make a word wall in your classroom or add empty containers to your block area for building. In your dramatic play area, consider adding cookbooks and takeout menus. And, of course, there are many excellent fiction and non-fiction books about the joys of eating well.
Recommended books/activities:
Celebrate Identity Through Food
Food is universal, and it lends itself to rich conversations about identity. While you might be limited in having visitors to your center or classroom, you can consider new ways to collaborate with families and share dishes that have special significance to them. Families could schedule a virtual visit to demonstrate how to prepare a recipe that represents their traditions or culture. Another option might be for the teacher to gather and assemble these recipes to create a class cookbook for families to try at home. There are lots of ways to carry over this representation into the classroom environment, too. Check out these great multicultural food sets for use in your dramatic play area. When we take care that children see their experiences reflected in the classroom, we communicate that they are noticed and valued.
Growing Food
A food study offers many natural ways to integrate science skills and demonstrate plants' life cycle. Point out the seeds in foods that your students eat – you could even incorporate math skills by sorting them! – and see what happens when planted. Make a simple windowsill planter with very few materials, or if you want to go big, work with the children to create an outdoor garden. Do a little research together to learn which fruits and vegetables can regrow from scraps. Potatoes and lettuce are just two examples that usually have quick and visible results. Children may be more willing to incorporate new foods into their diets if they grow and prepare them.
Make Snacks and Mealtimes Special
Food preparation and eating are everyday occurrences in an early education setting, but our choices can convey our feelings about them. Reflect on the messages you are sending to children during these parts of their day. Are times for eating rushed and chaotic, or are they calm and relaxed? Are there opportunities for children to make choices and learn to attend to their internal cues for hunger and fullness? Do adults have the chance to model appropriate behaviors at the table? Consider the environment you create during mealtimes, too. Select beautiful and child-friendly tableware, play soft music or even add fresh flowers to the table.
Get Creative with Kitchen Tools
Make prints with potato mashers or forks. Use a turkey baster to spread watercolors. Add rolling pins, garlic presses, and muffin tins to a playdough exploration. Funnels and colanders are perfect additions to a sensory table, and small tongs provide great fine-motor practice in transferring activities. Engage the children in conversation as they explore these tools to gauge their prior knowledge. Have they seen these tools before? How were they used? What kinds of food might they prepare or serve?
Recommended products:
Sensory Play Stones, Pizza Toppings
While all early learning professionals can agree that childhood health is of utmost importance, it's critical to remember that eating patterns are unique to each child and their family. Food has incredibly personal connotations. Enter conversations about food with sensitivity, demonstrating respect for every student's experience. Keep in mind that young children have very little control in their lives, and it is not uncommon for them to exercise a sense of control over food. Use a gentle, welcoming, and positive demeanor, and, above all, resist the urge to engage in power struggles over food. Your attitude about nutrition can make a significant impact. Embrace your ability to nourish the body, mind, and spirit of your students.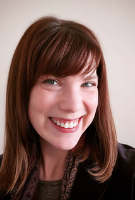 Adrienne Meade has been an early childhood educator for 16 years, working with children ages two through five. Her teaching practice is Reggio-inspired and is characterized by a particular focus on play, relationships, and wellness. Adrienne's blog, Dirt and Bricks, documents the collaborative learning experiences she shares with her students. Her writing has been featured in The Hechinger Report and Natural Parent Magazine.