Early Childhood Advocacy Matters

"Never doubt that a small group of thoughtful committed citizens can change the world. Indeed, it's the only thing that ever has." - Margaret Mead
The reality is if you are working in the field of Early Childhood you are advocating every day.
When you offer a play-based program, you are advocating.
When you are finding resources for a family, you are advocating.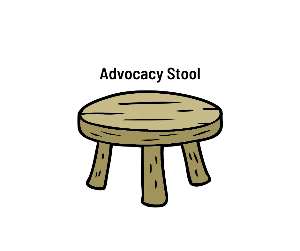 When you are attending professional development, you are advocating.
There are three legs to the advocacy stool:
Start in Your Own Program
Stay Informed
Engage with Elected Officials
Start in Your Own Program
Advocating sounds much scarier than it is. Here are a few tips and strategies to get started in your own program.


Being an expert is not necessary. As Early Childhood Educators your experience makes you a trustworthy advocate.


Start with your own classroom/program picking one thing you are intentionally going to advocate for. Don't overthink this.


I encourage you to pick something you are passionate about. One example could be increasing reading during Reading Month. Another idea could be celebrating Week of the Young Child in your classroom/program with two activities, or even increasing recycling in your program.


Think about how this is going to improve the lives of children, families and/or educators. This will help you know that you have been successful.


Research the topic/experience you will be advocating for. What are the best practices for this topic? Don't be afraid to reach out to others and ask questions.


Explore how you might include families, co-workers or other stakeholders in this experience.


Plan and organize the advocacy activity. Be as detailed as possible, including any costs that might be connected with the experience. Keeping notes will make it easier to repeat the experience and recall what you might change.


Complete the activity/experience and remember to document with pictures and stories. Have FUN with the experience. Advocacy should be rewarding and even FUN.


Share your activity with others. Post pictures in your program, share on apps with families or social media (with permission).


Reflect on what worked, what you would change and then get started planning the next activity/experience.
Putting Advocacy into Practice
Here's what putting advocacy into practice might look like:
Identify A Passion:
Samir is very passionate about reading, this is demonstrated by encouraging families reading with their children, adding higher quality books to her classroom and increasing activities tied to books in her classroom.
Identify Your Goal:
Families reading with their children can increase attachment between children and family members.
Families reading with children supports children's literacy skills.
Having more high-quality books in Samir's classroom will engage children in language and literacy. This will also give them more books to explore.
Increasing story stretchers (activities that stretch a story) in her classroom will encourage children to revisit the books and focus on specific aspects of the book typically tied to a learning criteria.
Research The Topic:
Samir researched why it is important for families to read to children, focusing on strategies. She reached out to the librarian at the local library.
Samir made a list of the top 10 new nonfiction and fiction books she would like to add to her classroom and sought suggestions from the librarian.
Samir asked her Facebook teacher group to share one of their favorite story stretchers.
Recruit Others:
Samir spoke to her co-teacher and director about her ideas. Her coworkers were excited to help. The Director said she would share Samir's ideas with their Family Advisory Board.
Plan and Organize:
Samir decided to break down her ideas into 3 different activities/experiences over two months.
She started with increasing reading with families/children during March which was Reading Month. She sent home a flier, arranged a reading challenge, and coordinated it with home visits so as a team they could discuss the importance of reading. She had her co-teacher take care of the reading challenge and they used an idea another room had tried before.
Samir shared a list of books she would like for her classroom with the Director. The Director shared this with the Family Advisory Board. They purchased half and the Director agreed to fund 5 of them too. Samir put the wish list out to the local library, and they ordered them so she could check them out.
Samir got several ideas from her Facebook group on story stretchers. She picked one that coordinated with a new book that the Family Advisory Board purchased. The center/program had all the materials.
Share:
Many photos were taken and a documentation board in the hallway (shared on social media and through their sharing app) highlighted the new books being used in the classroom.
Thank you notes were made by the children and sent to the Family Advisory Board, Director and the Library.
The Reading Challenge was displayed as a caterpillar with circles for the body with each book read highlighted on it. Individual scores were not kept. However, each family did receive a new book on butterflies through Scholastic Book points. Photos of children and their families enjoying their reading experiences were made into a book for the classroom.
Reflect:
Samir went through her notes and felt that there were many successes to build on. She found that asking others for help was especially valuable.
Stay Connected
Keeping informed about legislation and issues that impact early childhood care and education is an essential role of being a professional. Here are my top three suggestions.
Register to vote if you aren't currently registered. Here is a link: http://www.americaforearlyed.org/our-votes/register/


If you are registered to vote, get out and vote in all elections. Local elections often have a direct impact on children that we serve. Individuals elected to be on the School Board or the Mayor makes a difference.


Stay informed by following your elected officials, legislators and public policy organizations. With social media it is easier than ever to keep track of issues that are critical to our profession.
Engage Elected Officials
Although it may seem difficult, it is easier than ever to connect with your elected officials. Keep in mind that your voice matters a great deal. Elected officials are typically eager to hear from their constituents. Here are three ideas on how to do that.
Send an email to your legislator introducing yourself and making sure they understand that early childhood care and education matters.

Here is a quick way to locate your legislator: http://www.americaforearlyed.org/contact-your-elected-officials/
Invite a local politician to your program to read a story or participate in an activity.

Note: they need quite a bit of lead time.
Show up to their meet-and-greet offerings in your community. These are often at a coffee shop or local small business. Come with a small gift from your classroom or program. They always appreciate a picture or planting with an important message about why early childhood matters.
Challenging ourselves to devoting 30 minutes to advocacy once a week can make a real difference in the lives of the families and children we partner with.
I challenge you to just get started. We tend to overthink advocacy and the reality is that every little bit makes a difference.
Resources for Advocacy
https://www.naeyc.org/get-involved/advocate
https://startearly.org/app/uploads/pdf/EarlyChildhoodAdvocacyToolkit.pdf
https://www.nbcdi.org/what-we-do/policy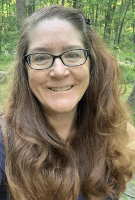 JaneAnn Benson founder of Early Childhood Ally has been in the field for almost 40 years as a teacher, coach, mentor and director.
She spent the past 20 years at Grand Rapids Community College leading and directing the Early Childhood Learning Laboratory, an accredited, star rated program in the heart of Grand Rapids, Michigan. Over the past year she transitioned to semi-retirement and remains as a coach and mentor with the Play and Learn project.
As a longtime advocate of all issues impacting the field of early childhood she has more time to devote to her passion. Check out Early Childhood Ally on Instagram, signing up for the monthly newsletter and visiting her website at www.Earlychildhoodally.org where she is eager to hear more about your needs and connecting!
The opinions, representations, and statements made within this guest article are those of the author and not of Becker's School Supplies as a whole. Any copyright remains with the author and any liability with regard to infringement of intellectual property rights remain with them. The company accepts no liability for any errors, omissions or representations.