Low-Cost Educational Materials
Early childhood educators are some of the most resourceful and creative individuals I am honored to know. With budgets and resources often being stretched, classrooms can be a treasure trove of low and no-cost developmentally appropriate materials.
Many of these materials work with all age groups. Keep in mind your children's development and skill set.
Many programs are kicking off a new school year, but early childhood teachers don't need to look any further than their own closets to get started!
Straws: Colored straws can be found in the 100's at dollar stores and can be used in dozens of ways. Young children can drop straws into containers and use their fine motor skills to retrieve them. Older children can practice cutting them, using them in water, and stringing them.
Painters Tape: Adhere the tape to the table and have children peel it off. Create an obstacle course on the floor or mazes for vehicles. Put on windows and have children paint. When the paint is dry, peel off the tape, and you have a masterpiece.
Dice: Big dice and sets of 6 dice can be found at many stores. You can get blank dice that can have actions on them. Dice can be used to roll and build, matching, or roll and counting.
Playing Cards: You can divide children into groups with cards. Children can use them to play memory (divide into smaller batches). Children can match with them.
Cardboard: Cardboard boxes can be used for building, designing, and painting. Cardboard can be used for making games, puzzles, and art canvases.
Muffin Tins or Ice Cube Trays: Muffin tins or ice cube trays are easy to find at garage sales, thrift stores, or dollar stores. Muffin tins and ice cube trays are excellent for sorting activities, as paint trays, individual lunch trays, and invitations to play.

Ping pong balls: Use them with a box lid to roll in paint. Add to water and use with an ice cream scoop. Write a shape on them and bounce them into the corresponding cup/pail.
Sticks: Wrap sticks with yarn or paint them. Sort by size (big and small) and use them to write in sand/dirt.
Beach ball: Use a paper towel tube or pool noodle to move or kick the beach ball. Write different challenges, such as jump in a circle or touch your toes, using permanent markers on several of the ball's sections. Play musical beach ball.
Pool Noodles: Cut pool noodles in various lengths for quiet blocks. Add letters, numbers, etc., with a permanent marker to 2" disc on the pool noodle. Cut down to make a hockey stick. (duct tape and gorilla glue work great.).
Shells: Seriate smallest to largest or sort similar shells together. Paint them. Use in the block area as a loose part.
Pails: Use them to collect items such as sticks. Hide letters in the pail in the sand. Freeze small items in water and add warm water to find the treasures. Use whiteboard markers on the outside of the bucket adding letters, shapes or numbers.
Socks: Turn a sock into a puppet just by adding googly eyes. Hang on a clothesline and match when taking down. Ball up into small balls and throw them into the laundry basket. Put an object in a sock and guess what it is.
Dominos: Use dominos to create a memory game, matching numbers, building, or rolling a dice and match.
Strainers: Use as a hat! Play with sensory materials such as water and sand. Use a strainer to transfer items such as bottle tops, pinecones, etc. Stick spaghetti or pipe cleaners through it.
Paint chips: Perfect for children to practice color recognition skills, matching, practice cutting, paper clip, and paint chip matching and alphabet upper and lower case.
Golf Tees: Nail golf tees with a child-size hammer into a styrofoam block, shoebox or soft pumpkin. Slit the top of a container such as a tissue box and have children push golf tees through.
Plastic Eggs: Plant grass seed in a half egg (grows very fast). Make maracas by adding plastic spoons. Make a shaker matching game by adding beans, rice, cotton balls, etc. and duct tape together.
Foil: Paint bright colors on foil. Rip into small pieces and glue onto dark paper. Cover blocks with it and add to the block area. Cover familiar items such as a car and have children predict what and then take the foil off the item to discover what it is.
I encourage you to ask your families and their networks for some of these items. I have found they are eager to be helpful, and this is one concrete way they can engage with the classroom.
Don't forget to send them a thank you note, ideally with a picture of the materials used! This is an excellent opportunity to share with families low materials many of us have at home can be educational.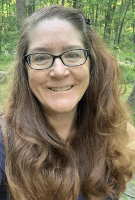 JaneAnn Benson founder of Early Childhood Ally has been in the field for almost 40 years as a teacher, coach, mentor and director.
She spent the past 20 years at Grand Rapids Community College leading and directing the Early Childhood Learning Laboratory, an accredited, star rated program in the heart of Grand Rapids, Michigan. Over the past year she transitioned to semi-retirement and remains as a coach and mentor with the Play and Learn project.
As a longtime advocate of all issues impacting the field of early childhood she has more time to devote to her passion. Check out Early Childhood Ally on Instagram, signing up for the monthly newsletter and visiting her website at www.Earlychildhoodally.org where she is eager to hear more about your needs and connecting!
The opinions, representations, and statements made within this guest article are those of the author and not of Becker's School Supplies as a whole. Any copyright remains with the author and any liability with regard to infringement of intellectual property rights remain with them. The company accepts no liability for any errors, omissions or representations.