New Strategies for Toddler Storytime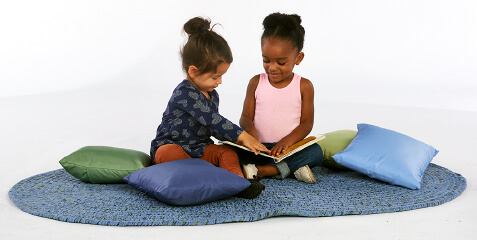 This is what it might look like. Toddlers crawling on and over you and wandering to and fro as you read. That's to be expected! Reading to young children especially toddlers requires patience and shared ownership. Follow the children's lead.
Does this seem counter-intuitive to what you believe story time should look like? Well, there's compelling science behind this notion. Young children do most of their learning while actively moving and exploring. So when they are moving during a story, toddlers will be listening and retaining information although it might not look that way. When children are moving their oxygen levels will increase, which fuels their neurotransmitters, which increases their alertness. An impressive argument, right?
Try these additional strategies for successful story time:
Be prepared to read the same book again and again. Just do it; toddlers are learning a love of reading and language.
Be patient. Young children often turn the pages before you read the words and they often look for that one favorite page. They ask the same question over and over.
Remember to use a kind and gentle voice, and vary your pitch.
Engage the senses. Use sign language or hand motions during the story.
Help the fidgets. Give the children small objects to hold.
Why is any of this important? Research has revealed that there is a "word gap" that factors into an achievement gap between the poor and the better-off in school and in life. http://www.npr.org/2013/12/29/257922222/closing-the-word-gap-between-rich-and-poor
Children that are read to daily develop parts of the brain that are key for early literacy, which is a predictor of later academic success. Just as important is the opportunity that reading together provides for developing social and emotional skills during shared bonding time.
Be sure to share these insights with parents so that everyone can experience more successful storytimes!
A few favorite titles here:
Would you add any others to the list?
-----
Robin's philosophy is child initiated, play-based learning with high-quality interactions that scaffold learning without interrupting. She has been practicing for years and owns an early learning center in Massachusetts. She is currently living in Fairbanks, Alaska.
The opinions, representations, and statements made within this guest article are those of the author and not of Becker's School Supplies as a whole. Any copyright remains with the author and any liability with regard to infringement of intellectual property rights remain with them. The company accepts no liability for any errors, omissions or representations.