Rethinking Dough in the Preschool Classroom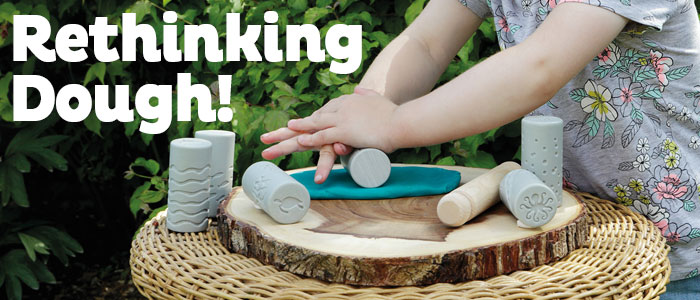 The pandemic brought out our best innovative practices! Teachers found new and creative ways to keep the learning active and meaningful while honoring new protocols for everyone's health and safety. Think about all the shifts and pivots we have managed. Our classrooms look different and our activity centers have new modifications. Multiple children sharing materials and working collaboratively is not happening. Not only do we need to rethink ways in which children can still gain and practice developmental skills, but let's think outside the box and consider new ways to use traditional materials and incorporate new materials.
One material that none of us want to give up is dough. Here's an opportunity to rethink how we incorporate themes, study units and even learning outcomes. How can we use dough and accessories to extend the learning and intentionally support young children's storytelling skills, literacy and language development, and even their emergent writing skills?
Plan Intentionally:
Plan for ways you want children to use dough and tools to develop and enhance their storytelling skills.


Create a follow-up activity so that children can talk about and share stories created in the dough center. Take photos of the creations so children remember.


Allow plenty of time for the activity so children can have sustained time for creativity.
Include Innovative Materials:
Provide Visuals:
Include children's fiction and non-fiction books on or near the dough activity. These are immediate and handy ways children can visually enhance their creations and recreate stories that were read earlier in the day.


Add photos and posters to the dough center as another visual reinforcer.


On your community walks or while playing outside, take photos of the surroundings. Keep the photos available on an iPad. Better yet, print the photos, laminate them, hole-punch and store them on a ring holder so children can flip through them as a visual reminder for their story settings and characters.


Even floor puzzles can act as a visual support.


Provide Vocabulary:
With storytelling, children are building vocabulary skills. Add some interesting descriptive words to index cards and store on a ring holder for easy access.


Again, fiction and non-fiction children's books are a great resource for children to locate words and phrases for their stories.


Shift the Dough Locations:
Place some dough in the writing center. Children can create stories by writing or drawing and the supplies are right there.


Add dough to the block or construction area. Many block accessories tend to be hard materials. The dough will add a softer, tactile experience.


Taking dough outside can easily be managed. Outdoor space and time provide a natural environment for incorporating dough activities.
Be Present with the Children
We tend to think of dough activities as independent or small group oriented. How can an adult presence shift that? If available, encourage an adult to spend time with the children at the dough table, not leading the activities or creating the stories, but rather listening to the choices, the story plots, the creative thinking that is occurring.
Create Individual Dough Bins

In our new thinking about keeping children safe while playing, consider creating individual airtight bins for children to use. Stock the bins with a variety of dough and tools. Add some writing materials and accessories. Match the items in the bins to children's interests or recent stories and conversations you have had with them. For older children, consider adding a checklist or shopping list for them to add some materials they would like included in their bin as they continue to develop their storytelling skills.
Early childhood educators are always designing innovative ways to support and enhance children's development and skills. The pandemic has caused us to get even more creative.

What does your dough center look like now?